Jazzy 1121 Power Wheelchair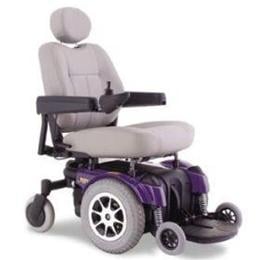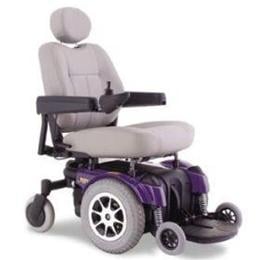 FDA Class II Medical Device* The Jazzy 1121 with Active-Trac Suspension utilizes Pride's patented mid-wheel drive technology and an overall length of only 39.5" for great tight space indoor maneuverability and a View more
The Jazzy 1121 combines outstanding performance with sleek design. The Jazzy 1121 with Active-Trac Suspension utilizes Pride's patented mid-wheel drive technology and an overall length of only 39.5" for great tight space indoor maneuverability and a turning radius of only 19.5" Equipped with an articulating rear caster beam, patented resilient from anti-tip wheels and a top speed of 5 mph, the Jazzy 1121 is ready to conquer all of your outdoor challenges.
Features and Benefits:
Top speed of 5 mph
Rear articulating caster beam for great performance and durability
One-piece, 2" diameter tubular frame for maximum strength and enhanced performance
Easy front access to batteries
Sleek and stylish design
300 lbs. maximum weight capacity
Accepts a wide selection of seating systems for individual needs and comfort
Easy accessible side charger port
Patented adjustable front anti-tip wheels
VSI integral controller
Range up to 25 miles per charge
19.5" turning radius
Utilizes Pride's patented mid-wheel drive design for easy turning and maneuverability
Low seat-to-floor height for easier access to environment
Available Colors: Viper Blue, Candy Apple Red, Forest Green, Purple Pizazz, Caribbean Teal, Champagne, Grey, & Black Onyx.
*Pride FDA Class II Medical Devices are designed to aid individuals with mobility impairments
Product Specifications
Product Weight
135.5 Ibs
Weight Capacity
300 Ibs
Maximum speed
5 mph
Ground clearance
3.5"
Overall Length
38.5"
Overall Width
23.8"
Wheels
Drive: 14" pneumatic
Front and Rear Casters
8" solid
Anti-tips
6" solid
Suspension
Active-Trac® ATX Suspension
Drive Train
Two-motor, mid-wheel drive
Braking System
Intelligent braking (electronic and regenerative)
Standard Electronics
50 amp, PG VSI controller
Battery Charger
On-board, 5 amp (standard)
Per-charge Range
Up to 25 miles
Battery Requirements
(2) 12 volt, deep cycle
Battery Size
NF-22
Battery Weight
38 lbs. each
Base Weight
135.5 lbs.
Standard Seat Weight
37 lbs. (medium-back)
Standard Seat Dimensions
18" x 18"
Limited Warranties
-
Frame
Lifetime limited warranty
Electronics
2-year limited warranty
Drive Motors
18-month limited warranty