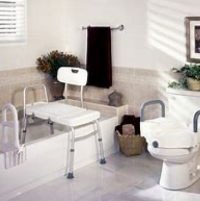 Bathroom Safety
Blackburn's knows how important your safety and ease of use are when it comes to the bathroom. That's why we offer a wide variety of bathroom safety products for home use to ensure your total comfort. Check out our inventory below or let our trained staff assist you in finding the proper products to meet your specific needs today!
Toilet Seat Risers, Grab Bars, Shower Chairs, Transfer Bench, Automatic Bath Lift and much more.
Disclaimer: The products in this category are not inclusive of all manufacturers and/or products available, this list will change periodically. If you are having difficulty finding a product, please Contact Us. We look forward to assisting you.