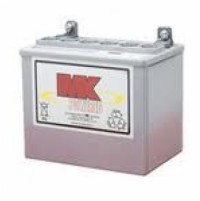 Batteries
YOU'LL COVER MORE GROUND WITH AN MK BATTERY
Blackburn's is your local provider of MK Batteries of replacement batteries for power wheelchairs, scooters, patient lifts, platform lifts, stair lifts and more!
Are you ready to live your life to the fullest? Battery-powered mobility equipment provides users with additional freedom and independence in their everyday life. None of these precision-designed vehicles, however, can perform to their full potential without a top-quality battery as the fuel source. In fact, choosing the right battery for your equipment can enhance performance and safety, simplify charging and maintenance and, in the long-run, save you time, money and peace of mind.
There's a simple reason why MK Battery is the number one choice among most major wheelchair manufacturers and leading rehab equipment suppliers. These industry leaders cannot afford to have their reputations riding on anything but the best power source available. That's why the MK name is your assurance of getting the best battery available for your wheelchair, scooter or other mobility device.
Disclaimer: Due to the large number of battery options, the products in this category are not inclusive of all manufacturers and/or products available, this list will change periodically. If you are having difficulty finding a product, please Contact Us. We look forward to assisting you.