Prism FST-300 Free Standing Track Lift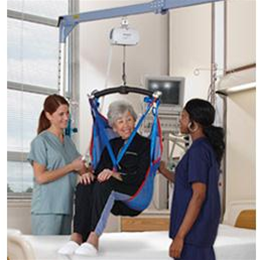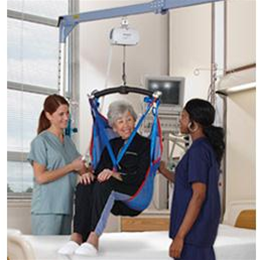 The FST-300 is perfect for permanent or temporary solutions in residential or home care environments or even as a short-term rental. Encompassing a height adjustment feature to accommodate for up to 7 ½ feet, it fits a wide-range of transfer needs. View more
Perfect for residential or institutional use, the strong and portable FST-300 is the most affordable and lightweight Free Standing Track system available weighing just 45 lbs. The FST-300's lightweight frame also allows for easy assembly. In fact, a single person can assemble the FST-300 in less than six minutes without the use of tools. How great is that?!
Encompassing a height adjustment feature to accommodate for up to 7 ½ feet, the FST-300 fits a wide-range of transfer needs. It's customized roller bag makes it easy to store and convenient for caregivers to transport.
The FST-300 is perfect for permanent or temporary solutions in residential or home care environments or even as a short-term rental. Best of all, the FST-300 requires little to no maintenance.
Fast & easy assembly
Lightest and most portable non-installed track system available
Safe working load of 300 lbs. (136 kgs.)
Dual height-adjusting clamps and collar-locks
Low cost to rent, buy, and maintain
Fits easily into its ergonomic carry bag
Wheeled carry bag makes transportation easy
Functional lifting range to 7 ½ feet in height
Low profile foot pads and posts96 inch span provides space for beds up to a 60 inch width and a horizontal transfer space for beds up to 48 inches of width