PASSPORT® Vertical Platform Lift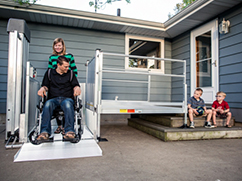 Are you ready to take safe access to the next level? The PASSPORT® Vertical Platform Lift does just that. Providing a quiet, smooth ride to your next destination, this platform lift is the perfect solution for any difficult raised entryway. View more

Are you ready to take safe access to the next level? The PASSPORT® Vertical Platform Lift does just that. Providing a quiet, smooth ride to your next destination, this platform lift is the perfect solution for any difficult pathway, porch, or other raised entryway. With available lifting heights from 44" to 168", our Vertical Platform Lift models can accommodate a wide range of entryway elevations. It's also the lightest residential platform lift on the market, weighing an estimated 300 pounds lighter than comparable steel units.
Product Specifications
Maximum Weight Capacity
300
Maximum Height
64" to 168"
Safety: Undercarriage Platform Safety Pan with obstruction detector takes less than 15 pounds of pressure to stop lift.
Control Box: Multi-positional with keyed operation. Also features continuous, large, low pressure, mushroom head control
Universal Access: The self-actuating 24-inch entry ramp can be assembled on either end of the platform
Adaptable Unit: Multiple lifting heights and platform configurations to fit your unique requirements.
Lightest Platform Lift: Known on the market as the lightest residential platform lift available.
DC-Powered: The PASSPORT is fully DC powered. On battery power alone, the lift can complete approximately 20 complete cy
ETL Certified: The PASSPORT has been tested and approved by a national accredited testing laboratory, assuring continued