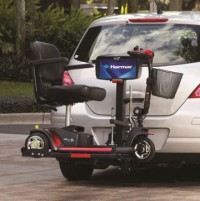 Wheelchair / Scooter Outside Auto Lifts
An Outside Auto Lift is attached to the vehicle by means of a hitch and consists of an actuator and platform which secures and carries the mobility device on the back of the vehicle.
The operator of an Outside Lift should have the following capabilities:
Walk from front to rear of the vehicle and back
Stand for two to three minutes while the lift operates
Drive or push the mobility device on/off the platform
Insert the key and rotate it 90 degrees to turn on and activate the lift
Apply pressure to hold the up/down toggle switch while the lift operates
For models requiring securement with retractors, connect hook to location on mobility device. Pull strap end or turn knob to increase tension (single and dual-hand retractors available).
Harmar Auto Lifts are designed to safely transport a power chair, scooter, or manual wheelchair on a vehicle. The specific lift you choose depends on the combination of vehicle, hitch class, mobility device, and your physical capabilities. You should discuss the lift with BLACKBURN'S an Authorized Harmar Dealer who has the training and knowledge to help narrow down the choices.
Disclaimer: Automobile lifts are not compatible for all makes and models of vehicles. The products in this category are not inclusive of all manufacturers and/or products available, this list will change periodically. Contact BLACKBURN'S Home Accessibility Department.
This item is not covered by Medicare or insurance. Cash or credit card accepted.